FEMINA MAGAZINE, AUGUST 2018 ISSUE
Artsy Decor, Bespoke Furniture For Your Abode
Jan-25 2019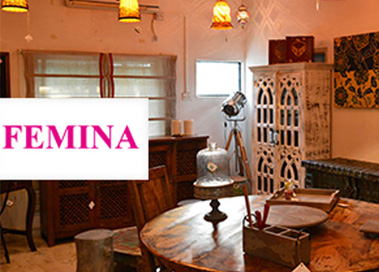 For over 50 years now, Femina, India's first and largest read women's English magazine has long been the definitive life and lifestyle guide for progressive women.
In this brave new age of the multi-faceted, multitasking woman, Femina still remains the referral point for women who are expanding their roles and exploring new frontiers. And continues to talk to forward-thinking women on issues that matter most to them.
In Their Own Words
Artsy Decor: Bespoke furniture for your abode
What's Interesting?
Ra Lifestyles addresses the style and art-conscious Pune. They offer some of the most unique, creative & practical furniture and home decor pieces. The store's front is the brand's USP- it is set up in an 8000 sq.ft bungalow. They have very exclusive and limited pieces of art; they make sure each of their clients gets a unique piece.
The whole space is dedicated to a beautiful range of classic Indian furniture, genuine antique furniture, contemporary furniture. They support Indian artisans, fully and also have environmentally-friendly collections.
-Compiled by Sayali Marathe (Femina)